Reliable Sewage Cleanup in Thornton for Your Home or Business
Call for professional sewage cleanup services in Thornton, CO, to keep your entire family or staff safe from the dangers of sewage backup.
Available 24/7 Emergency Service
Affordable and Reliable Sewage Cleanup in Thornton, CO
Sewage backups are a major concern that can cause serious damage to your home. They can endanger your health and cause significant property damage. They can also pose further problems, such as mold and mildew growth. To safely remove sewage backup, seek professional sewage cleanup in Thornton, CO.
Deep Water Emergency Services & Restoration is here to provide you with sewage cleanup services. We have more than two decades of experience and are a BBB-accredited and IICRC-certified business, so you can rest assured that we can help you restore your sewage-damaged property.
Our Sewage Cleanup in Thornton, CO
At Deep Water Emergency Services & Restoration, your convenience and safety are our top priorities. We streamline our sewage cleanup process to help you get back to your normal routine promptly.
Here's an overview of how our process works: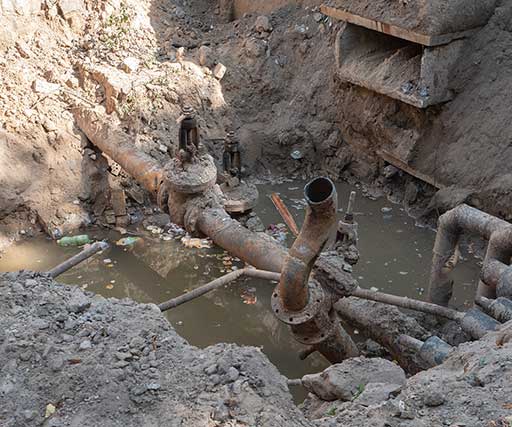 Why Call for Professional Sewage Cleanup in Thornton, CO
Sewage backups don't just cause property damage, but they can also affect your health. It's necessary that you call for professional sewage cleanup if you want to avoid such dangers. Here are the reasons why you should let experts perform the necessary cleanup:
1. Reduce Losses and Costs
Sewage can quickly spread and seep through your property's structural members and contents. If not dealt with promptly and appropriately, it can lead to more damage and more costly repairs.
3. Investigate the Cause of the Problem
Our cleanup specialists have the tools needed to locate the source of sewage backup on your property. By understanding its cause, we can help you lessen the likelihood of its recurrence.
What to Do Before Our Cleanup Team Arrives
It's highly advised that you be prepared not just during the sewage cleanup process but also before the service. Doing so will help you ensure safety and make it easier and faster for our cleanup experts to perform sewage cleanup on your property. Here's what to do before our team arrives:
1. Ensure everyone's safety. Keep your family or employees away from the sewage, as well as the areas and items it has damaged and contaminated. You should especially look out for the children and elderly, who are more vulnerable to medical complications and diseases.
2. Switch off the electrical power supply. Water and electricity are never a good combination. They can cause electrical fire and electrocution. Turn off the power supply to avoid these hazards and make it easier for our cleanup experts to navigate around your property.
3. Open the doors and windows. Contaminated water can release harmful pathogens into the air. By opening your doors and windows, you allow for proper ventilation on your property. This, in turn, reduces the risks of getting infected with airborne diseases that come with sewage.
4. Move all the dry items to a safe space if possible. Without going near the impacted area, try to evacuate important items, such as your documents. If most parts of your property are covered in sewage, however, we advise that you wait for our cleanup experts to arrive.
Why Choose Us for Sewage Cleanup in Thornton, CO
While there are a number of professional sewage cleanup companies in Thornton, CO, we are your best option. Here's why:
Certified Team
Deep Water Emergency Services & Restoration has an accreditation from BBB and a certification from IICRC. These credentials show our competence and dedication to helping clients.
Client-Centric Approach
Our priority is to make the cleanup procedure as easy as possible. Throughout the entire sewage cleanup process, we'll take your needs and preferences into consideration.
Prompt Response
Urgency is a must when dealing with sewage backup. You can rely on our team to provide you with a prompt response to prevent additional issues from arising and minimize costs.
State-of-the-Art Equipment
At Deep Water Emergency Services & Restoration, we utilize modern cleanup practices and invest in cutting-edge tools, devices, and products to ensure quality sewage cleanup in Thornton, CO.
Trustworthiness and Quality
Our team of cleanup specialists values your property the same way you do. We understand that it's one of your biggest investments, so we're here to help you restore it to its pre-damaged state.
24/7 Availability
Our cleanup team is ready to assist you at any time. Our services are open 24/7, so you can contact us as soon as you notice any signs of sewage backup. We'll be there to help and provide the necessary action.
Contact Us for Sewage Cleanup in Thornton, CO
Guarantee your safety from the dangers of sewage backup by hiring our experienced cleanup team! If you have any questions about our sewage cleanup in Thornton, CO, feel free to contact us. We'll answer your queries right away!