Mold in your home is definitely not something you want to deal with. It's not only unsightly, but it also poses a significant health risk to you and your family. Also, mold is a type of fungus that loves to grow in damp and humid areas. So, if you find mold growth in your house, it's a sign that there could be a bigger problem that needs to be addressed.
It's important to take action as soon as you notice any mold growth in your home because if you let it go unchecked, it can quickly spread and become more difficult and expensive to remove. If you're already dealing with a mold problem, it's possible that the situation could get worse if you don't take care of it promptly.
What are mold spores?
Mold is a type of fungus that's practically invisible until it finds the perfect place to grow. Molds need a few things to thrive, like a damp environment and warm temperatures, and they can feed off organic things or materials made from organic things like wood, fibers, and fabric. Once the mold finds its ideal home, it will produce spores, which are the mold's reproductive cells, that get blown into the air, eventually spreading molds all over the place.
The danger of mold spores comes from prolonged exposure to high concentrations of it. Breathing in mold spores can cause asthma attacks and allergic reactions that affect your respiratory system.
If you notice any signs of mold growth in your home, it's essential to take action right away. Not only is mold unsightly and unpleasant, but it can also have serious health consequences.
The symptoms may include the following:
Itchy and Watery Eyes, Throat, and Nose

Coughing

Skin Rashes

Eye Redness
What do mold spores look like?
Mold spores are actually so tiny that we can't even see them! They act like little seeds that float around until they find a spot to settle down and start growing. When mold does take hold, it can be pretty conspicuous, viscous, and covered in fuzz. And the worst part? It can come in all kinds of colors, like white, green, yellow, brown, black, and even blue.
The thing is, mold isn't just unsightly – it can really be dangerous. When surfaces in your home become infested with mold, they can start to decay and rot much faster than they should. This can cause serious problems for your house's structure and even put your health at risk.
If you think you might have a mold problem in your home, it's important to act fast. But don't try to tackle it on your own – mold removal can be a tricky process, and you don't want to make things worse by spreading mold spores around your house.
What elements cause mold growth?
There are actually five things that mold needs to grow. Without all of them, mold can't thrive – so by addressing any or all of these factors, you can help ensure that your home stays mold-free.
They are:
Moisture

Oxygen

Sustenance

Heat

Absence of Sunlight
By taking steps to control these elements in your home, you can help prevent mold from taking hold. For example, you might want to invest in a dehumidifier to keep the air in your home dry, or make sure that any leaks or water damage are addressed promptly.
What are the possible moisture sources in your home?
Moisture can come from many different parts of your home. It's not just limited to the obvious places like the bathroom or kitchen – even your attic, basement, HVAC system, crawlspace, and exterior can be sources of moisture.
There are many different things that can cause moisture. Here are some of them:
Pipe Leaks or Damage

Condensation

Air Circulation Insufficiency

Heater Overflow

Rain or Floodwater

Drainage System Deficiency

Foundation Integrity Damage

Toilet Damage

Absorbent Dampness

Puddles

Sprinklers
Inspecting every inch of your home may help quell the problem before it spawns. Once you spot the early signs of mold, call an expert to your doorstep immediately.
What are the signs of a mold problem?
It's important to keep an eye out for any early signs of mold in your home, so you can take action right away. Catching mold early can help prevent it from spreading and causing serious damage to your home and health.
Here are some common signs that you may have a mold problem brewing:
1. Musty Odors
If you notice a strong, musty odor in your home, it could be a sign of mold growth. Even if you can't see any visible mold, the smell alone is enough to warrant further investigation.
2. Ceiling Stains
If you ever notice inexplicable staining on your ceiling, in your attic, or in between the floorboards, one thing's for sure — there's moisture. If the discoloration hasn't already developed into a mold colony, it won't be long until it will without your intervention.
3. Water Damage
If you've had any recent water damage in your home, such as a leaky roof or a burst pipe, there's a good chance that mold could be growing as a result. Keep an eye out for any discoloration or warping on walls, ceilings, or floors.
4. Allergies
If you or anyone in your household is experiencing allergy-like symptoms, such as sneezing, coughing, or itchy eyes, it could be a sign of mold exposure.
5. Wallpaper or Paint Damage
When mold overruns a wall or your paneling, its core structure will separate and decay, continuing to worsen before your eyes.
6. Visible Mold Growth
Of course, the most obvious sign of a mold problem is visible mold growth. Keep an eye out for any fuzzy, discolored patches on walls, ceilings, or floors.
Do air purifiers help get rid of molds?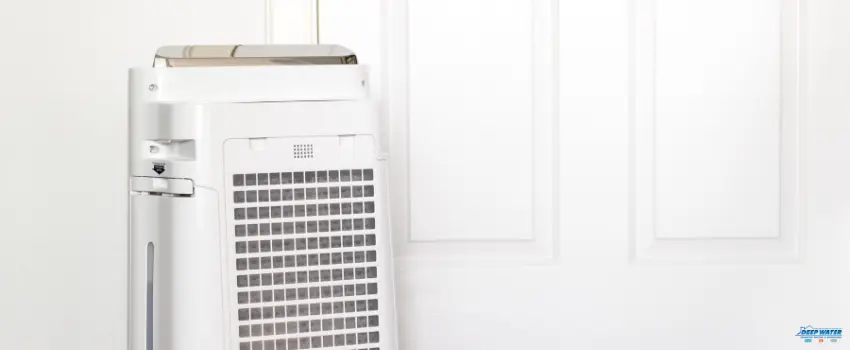 When you notice mold growth in your home, it is a sign that there are spores present in the air. It begs the question, "do air purifiers help with mold?" Fortunately, an air purifier can be an effective solution to eliminate them, with a variety of options available in the market. However, not all air purifiers are created equal, and it is essential to choose the right one that can effectively tackle mold spores.
The best air filter for mold is the one that uses High-Efficiency Particulate Air (HEPA) filters capable of capturing particles as small as 0.3 microns, ensuring that 99.97% of them are trapped. HEPA filters are also effective at entrapping larger particles, including allergens and dust, making them an excellent preventive measure against mold growth. With spore diameters varying from one to 20 microns, HEPA-filtered air purifiers is a type of air purifier that removes mold and can help you breathe cleaner and healthier air in your home.
What can't an air purifier for mold spores do?
In response to your question, "can air purifiers help with mold and long-term problems?" Yes, air purifiers with HEPA filters are a precautionary solution to your mold problem, likely the only one you'll need if mold hasn't already dominated your home. However, if there's any growth already present, address it first.
To address mold growth effectively, it's important to identify and remove the source of moisture that is causing the mold to grow. This may involve fixing leaks, reducing humidity levels, and improving ventilation. In addition, visible mold should be physically removed and cleaned using appropriate methods and cleaning solutions.
Air purifiers are no good when it comes to pre-existing mold. Once you've handled any mold infestations, having a reliable HEPA air purifier helps prevent any other problems from sprouting.
If you're also wondering whether or not an air purifier kills mold— no, it doesn't. Air purifier that removes molds can help to reduce the amount of mold spores in the air, but they typically do not kill mold. Air purifiers use filters to trap mold spores and prevent them from circulating in the air, but they do not address the underlying cause of the mold growth.
Key Takeaway
Mold spores are tiny particles that can cause allergic reactions and respiratory problems when inhaled. Air purifiers can be effective in removing mold spores from the air, but it's important to choose the right type of air purifier that includes a HEPA filter and to properly maintain it to ensure its effectiveness. Additionally, air purifiers alone cannot completely solve a mold problem and should be used in conjunction with proper mold remediation techniques.
Say goodbye to mold – contact our experts today for reliable mold removal services!
If you notice any signs of mold growth in your home, it's essential to take action right away. Not only is mold unsightly and unpleasant, but it can also have serious health consequences. That's why it's best to call in the professionals, like Deep Water Emergency Services & Restoration, who have the experience and knowledge to remove mold safely and efficiently.
Your health and safety are our top priorities, and we'll work with you to make sure your home is free of mold and safe for you and your family. So, if you're dealing with a mold problem, don't wait – contact us today to schedule an appointment for a Denver mold mitigation service and once you're in the clear, you can use your air purifier for mold spore worry-free.