Fires are devastating because they don't just destroy properties; they can also claim human lives. While its causes can vary, a leading culprit is a fire caused by electricity.
Electrical fires pose a significant risk in both residential and commercial settings. Fortunately, they are often preventable if the underlying causes are understood and addressed.
What Causes Electrical Fires?
The following factors can lead to electrical fires:
1. Overloaded Circuits
These often happen when the electrical load exceeds the capacity of the circuit. When too many devices or appliances are connected to a single circuit, it can lead to excessive heat buildup, potentially igniting nearby flammable materials.
The electrical load must be distributed evenly across multiple circuits. It's also best not to rely on extension cords or power strips for high-power devices.
2. Faulty Wiring
This is among the most common causes of electrical fires. It can be caused by various factors, such as outdated electrical systems, improper installation, or damage due to wear and tear. Wiring becoming frayed, loose, or exposed can lead to electrical arcing or short circuits. Regular inspection and maintenance of electrical systems are crucial to promptly identify and address any faulty wiring issues.
3. Malfunctioning Electrical Equipment
Problems with different electrical equipment, including appliances, heating systems, or power tools, can also be electrical fire hazards. Such problems may result from manufacturing defects, lack of maintenance, or improper usage. Regular maintenance and following the manufacturer's guidelines are essential to prevent such incidents.
4. Extension Lines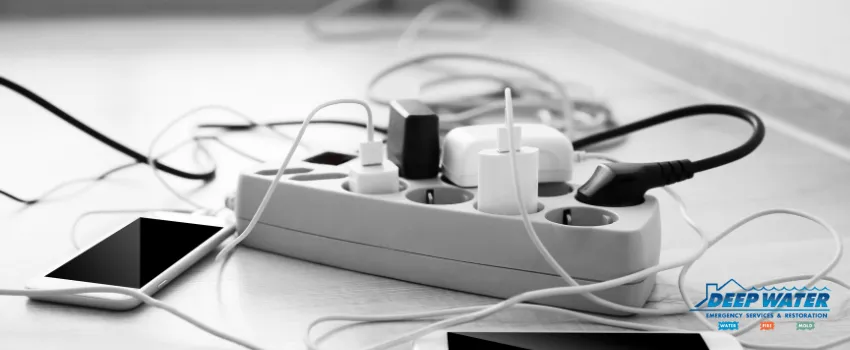 Improper use of extension cords or power strips is also among the top causes of electrical fires. These electrical accessories are intended for temporary use and should not be seen as a permanent solution.
Loading extension cords with multiple devices or using them with high-power appliances can cause these lines to overheat and catch fire. To prevent this from happening, use extension cords sparingly, and match them with the appropriate device's power requirements.
5. Light Fixtures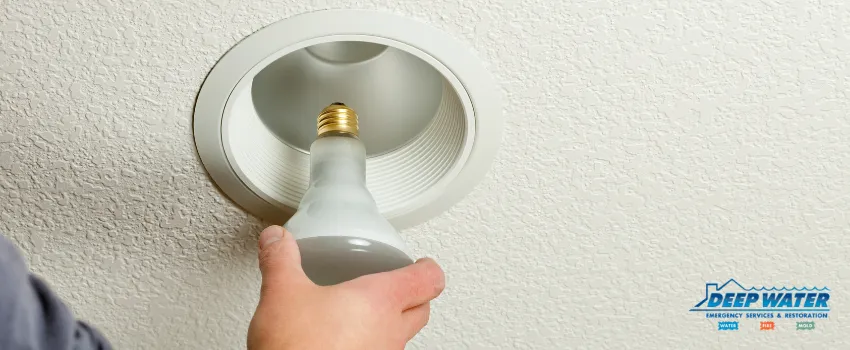 Old light fixtures, or those with faulty wiring, can also be considered fire hazards. They can have loose or exposed wires that can cause sparks, increasing the risk of a fire erupting. Regular inspection of light fixtures, prompt replacement of damaged components, and proper installation can help mitigate the risk and ensure safe lighting in homes and businesses.
Can an Electrical Fire Start if Nothing Is Plugged In?
While it may seem counterintuitive, a fire caused by electricity can start even when nothing is plugged into an outlet. This is primarily due to underlying electrical issues within the wiring system. If this is worn out, has loose connections, or has damaged electrical components, it can create a conducive environment for a spark to start. This can be ignited by nearby flammable materials, eventually leading to a fire outbreak.
Additionally, poor electrical maintenance, where installations are hardly examined, can contribute to the risk of electrical fires. This is where the importance of regular inspections by qualified professionals should be emphasized.
Why Would an Outlet Catch Fire?
Outlets can catch fire for a variety of reasons, many of which are associated with electrical issues. One common cause is overloading the outlet with too many high-power devices or appliances. This causes the outlet to exceed its electrical capacity, generating excessive heat that can potentially result in a fire.
Are There Warning Signs Before an Electrical Fire?
Yes, there are usually signs warning you of possible electrical problems that can cause a fire to erupt. These signs may include flickering or dimming lights and frequently tripped circuit breakers. Other signs include unusual buzzing or crackling sounds from outlets or switches and burning or melting plastic.
Moreover, discolored outlets, scorched power cords, or a tingling sensation when touching an electrical device could indicate underlying electrical issues. You must pay attention to these warning signs to avoid potential electrical fires and consequential fire damage.
Key Takeaway
A fire is an unfortunate incident, but what is more unfortunate is that it can be prevented, especially if the cause is electrical in nature. In other words, preventing electrical fires can be easily done. All it takes is regular maintenance, particularly conducting inspections and addressing any identified issues. Otherwise, you're placing the safety of your workplace and home's electrical systems on the line.
Fires are doubly disturbing when they lead to fire damage. Of course, when this happens, there are reputable fire damage restoration companies that can help with the needed restoration tasks.
Handle fire damage with grace with the help of Deep Water Emergency Services.
The causes of electrical fires can be avoided by implementing proper precautions and practices. However, unforeseen circumstances can still lead to fire incidents within homes. In such events, you must seek the assistance of fire damage restoration experts like Deep Water Emergency Services.
We specialize in restoring your home to its former glory through our systematic fire damage restoration service approach. With our expertise, you can trust that there will be no traces left of the fire that engulfed your property. Call us today.