Water Damage Restoration in Golden CO for Your Convenience
Get your property back in good shape with our dependable water damage restoration Golden CO.
Available 24/7 Emergency Service
Competent and Proficient Water Damage Restoration Golden CO
Water damage is a serious problem. Not only can it cause extensive damage to a property's structure and contents, but it can also result in mold growth if not properly dealt with. In extreme situations, water damage can also cause electrical hazards and be a source of long-term health risks, which you and your loved ones or employees might get infected with.
With all these hazards that come with water damage, choosing a qualified water damage restoration company is all the more critical. An experienced water damage restoration company has the necessary equipment and knowledge to deal with water damage safely and properly. They can also identify and repair the source of the water damage and help ensure that it does not happen again in the future.
For reliable water damage restoration service Golden CO, look no further than Deep Water Emergency Services & Restoration. Our team of experts has the required skills and tools to handle water damage and create a strategic restoration plan. We are IICRC-certified and BBB-accredited, so you're assured that we can effectively restore your property to its pre-damaged state.
Our Water Damage Restoration Golden CO
Deep Water Emergency Services & Restoration offers prompt assistance to those who encounter water damage. We offer comprehensive water damage restoration in Golden, CO, to ensure the best possible outcome for our clients.
Our process works as follows:
1. Inspection and Damage Assessment
The first step in our process involves coming to your property for an inspection and evaluation. Our restoration specialists will determine the water damage's source and evaluate the severity. Based on what we'll find, we'll create a plan that outlines all the necessary steps for restoring your property. Included in this plan are a detailed timetable and estimated costs.
2. Water Removal
After coming up with a plan, we'll start with the water extraction process. Our restoration specialists only utilize high-powered equipment to remove any standing water, which is a vital step as water can cause further damage if left for too long. Throughout this part of the water damage restoration process, we'll conduct inspections to ensure that there's no water left on your property.
3. Drying and Dehumidifying
The third step of our water damage restoration Golden CO, involves drying and dehumidifying. Deep Water Emergency Services & Restoration invests in industry-grade driers and dehumidifiers to speed up the drying process so you can move back in as soon as possible. During this stage, we'll also keep track of moisture levels to guarantee that we eliminate all water and moisture.
4. Cleaning
A rigorous cleanup is an essential aspect of our restoration procedure. We'll use premium cleaning materials and advanced equipment to clean, sanitize, and disinfect the impacted areas on your property. Our cleaning process eliminates any hazardous chemicals and microorganisms resulting from water damage. Furthermore, our experts will get rid of all irreparable items for your safety.
5. Complete Restoration
The last stage of our restoration procedure involves complete repair. Our restoration professionals will fix all the affected areas of your property. We've helped numerous clients recover their properties to their pre-damaged condition, and we're ready to do the same for you. No matter the extent of the repair needed, you can count on us to restore your property to its former glory.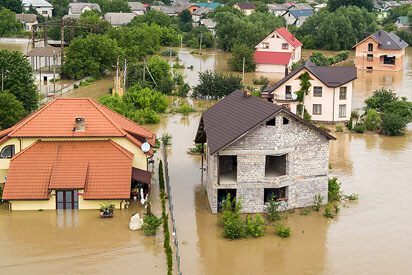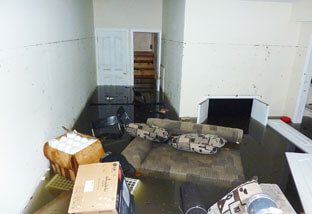 Why Call for Professional Water Damage Restoration Golden CO
Water damage can lead to serious problems if not addressed right away. It has the potential to cause harm beyond just structural damage to buildings. By calling in experts for water damage restoration in Golden, CO, you prevent encountering the following risks:
Untreated water damage can result in severe outcomes, including jeopardizing the stability of a building and increasing the risk of collapse. It may also lead to broken plumbing fixtures, electrical system failure, and mold growth.
Remaining moisture from water damage can attract numerous pests. Not only can these pests cause harm to your property, but they can also spread serious illnesses, putting you, your family, or your employees at risk.
Standing water can pose a serious electrical hazard since it being near electrical outlets and appliances can cause shocks and fires. Professionals have the required training to manage these safety risks and protect you from harm.
For everyone's safety, it's advisable to avoid contact with standing water, as it may contain harmful chemicals, which can lead to certain health issues, such as skin irritation, vomiting, and wound infection.
Contaminated floods and leaky drain pipes can spread illnesses like dengue fever, malaria, and leptospirosis. By calling a trusted water damage restoration company, you ensure that you don't catch these diseases and spread them to everyone around you.
Why Choose Us for Water Damage Restoration in Golden, CO
Deep Water Emergency Services & Restoration is your top choice for credible water damage restoration. We'll efficiently restore your property to its original state. Here are some reasons why you should choose us:
Decades of Experience
As a reputable and reliable water damage restoration company Golden CO, our team of restoration specialists has helped thousands of clients for over two decades now.
Client-Centric Services
Your convenience and welfare are of utmost importance to us. We're always available to hear your feedback and comments regarding our services.
State-of-the-Art Equipment
We only utilize top-quality tools and equipment to remove water efficiently, dry and dehumidify impacted regions, and bring your property back to its pre-damaged state.
Prompt Response
Deep Water Emergency Services & Restoration proudly offers exceptional services to our clients. Apart from restoration, we can also help you with insurance claims.
Trustworthiness and Quality
We're trusted for our dedication to providing quality services. You can trust us to provide you with unparalleled services from start to finish.
24/7 Availability
Our expert team is always on standby to assist you. Since time is of the essence when dealing with water damage, we're here to answer your call and provide services 24/7.
Contact Us for Water Damage Restoration in Golden, CO
Deep Water Emergency Services & Restoration is here to restore your property to its pre-damaged state. Get in touch with us today for inquiries regarding our services. We look forward to hearing from you!